Past Projects
Since 2009, Tradewinds Overseas Aid Fund has been supporting projects which make a real difference in people's lives. That's because we've seen that the most disadvantaged groups in our partner countries need more than improved trade to empower social change.
Topu Honis Orphanage East Timor
Topu Honis shelter home for children in Oecussi, East Timor, is a long established project that our partner, John Bailey, has recently begun raising funds for as Hope Orphanage is now self sustaining. It supports children who are orphans or have suffered abuse. It also supports a number of women who are widows or have disabilities. There is a strong focus on education and several children have graduated from university. The orphanage is in a very remote part of the country.
Past projects supported by Tradewinds:
Women's Livelihood Development Project with Low Income Families in Gavilipitiya and Pehinibeddara Villages in Kegalle District in Sri Lanka
Similar to the very successful Dambadeniya project, the goal of this project was to assist disadvantaged women in the selected locations to develop their own sustainable livelihoods to raise income levels in their families and to help them become more empowered in their own lives. Coordinated by our long term partner organisation, Satyodaya in Kandy, Sri Lanka.
In 2010, Tradewinds Board member Michael Finnane, visited one of the villages. The village was in the jungle, some distance from rice fields that had been the only source of income for the villagers who work as labourers in the fields. All of the villagers were poor. The project enabled small loans to be given for such things as banana cultivation, raising chickens, growing vegetables, sewing clothes and making furniture.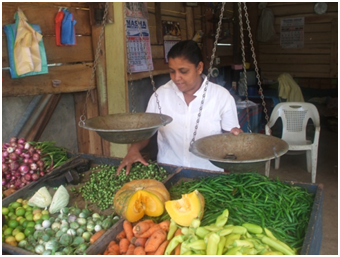 Gavilipitiya Village: Ms Nilanthi sells vegetables as her own livelihood activity
Gavilipitiya Village: At a savings promotion programme
Find out more about our Current Projects